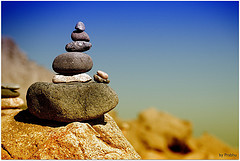 "This is an important lesson to remember when you're having a bad day, a bad month, or a shitty year. Things will change: you won't feel this way forever. And anyway, sometimes the hardest lessons to learn are the ones your soul needs most. I believe you can't feel real joy unless you've felt heartache. You can't have a sense of victory unless you know what it means to fail. You can't know what it's like to feel holy until you know what it's like to feel really fucking evil. And you can't be birthed again until you've died." ~Kelly Cutrone
I've always been of the opinion that there are certain life lessons we must learn, and until we learn them, they will keep popping back up in our lives until we get it right. Then and only then can we move on to the next lesson or set of lessons. I'm not sure if this is a hierarchy of life lessons – if certain lessons need to be learned before others – or if each set is different for each person. It seems that we can learn multiple lessons at once – unless I'm just unusually trusted by the universe which I highly doubt – but these pesky little lessons absolutely will not go away until you score a high enough grade of understanding. Even when we lapse and mess up and make embarrassing mistakes that make us want to burry our heads in the sand, I sense that's all part of the giant Life Lesson – and it's not going backwards at all – just finding a different path forward.
I've also always been of the opinion that our talents were meant for the benefit of others, while our weaknesses were meant to allow others to help us through their talents – like a puzzle – where our talents and skills is the part of the puzzle piece sticking out which fits into another puzzle piece's (person's) cavity or void or shortcoming…so that in the end we're all one big puzzle together…or as the Bible says a little more eloquently, one body. But that's another blog entirely!
Lessons I've learned in the past: (pretty much in the order they were learned)
I have to take responsibility for my own actions, but not for others'
Anger is okay to feel, but it is not okay to express in a way that hurts others
Forgiveness is more for my own letting go than letting the other person "off the hook"
Forgiveness is paramount to be able to move on and live a whole life
Forgiveness of self is as important as forgiveness of others
You cannot love others until you love yourself
Love is an action, not a state of mind
Girlfriends are essential to a whole and happy life
Take care of the skin and body you live in…no dress rehearsals here
Isolation from others does nothing but prolong and increase sadness…
Connectedness and community are as necessary as air

Lessons I'm learning now:
I'm worth it.
What my gut is telling me is probably right
We all get in our own way when it comes to finding the right answers for us…and if we can get out of our own way long enough, we may be able to answer our own deep questions
Timidity is not becoming
Vulnerability and emotion are strengths, not weaknesses

I found the below insert from an online search, and interestingly enough, it talks about the very concept of life lessons I've always imagined…

10 Rules for Being Human by Cherie Carter-Scott
1. You will receive a body. You may like it or hate it, but it's yours to keep for the entire period.

2. You will learn lessons. You are enrolled in a full-time informal school called, "life."

3. There are no mistakes, only lessons. Growth is a process of trial, error, and experimentation. The "failed" experiments are as much a part of the process as the experiments that ultimately "work."

4. Lessons are repeated until they are learned. A lesson will be presented to you in various forms until you have learned it. When you have learned it, you can go on to the next lesson.

5. Learning lessons does not end. There's no part of life that doesn't contain its lessons. If you're alive, that means there are still lessons to be learned.

6. "There" is no better a place than "here." When your "there" has become a "here", you will simply obtain another "there" that will again look better than "here."

7. Other people are merely mirrors of you. You cannot love or hate something about another person unless it reflects to you something you love or hate about yourself.

8. What you make of your life is up to you. You have all the tools and resources you need. What you do with them is up to you. The choice is yours.

9. Your answers lie within you. The answers to life's questions lie within you. All you need to do is look, listen, and trust.

10. You will forget all this.

"I'm not telling you it's going to be easy…I'm telling you it's going to be worth it." ~Art Williams

Happy learning!